Review: Two Food Pop-Ups That Made It
It's said that if a restaurant lasts three years, it's a success. These two pop-ups have gone the distance, and I suspect will stick around much longer.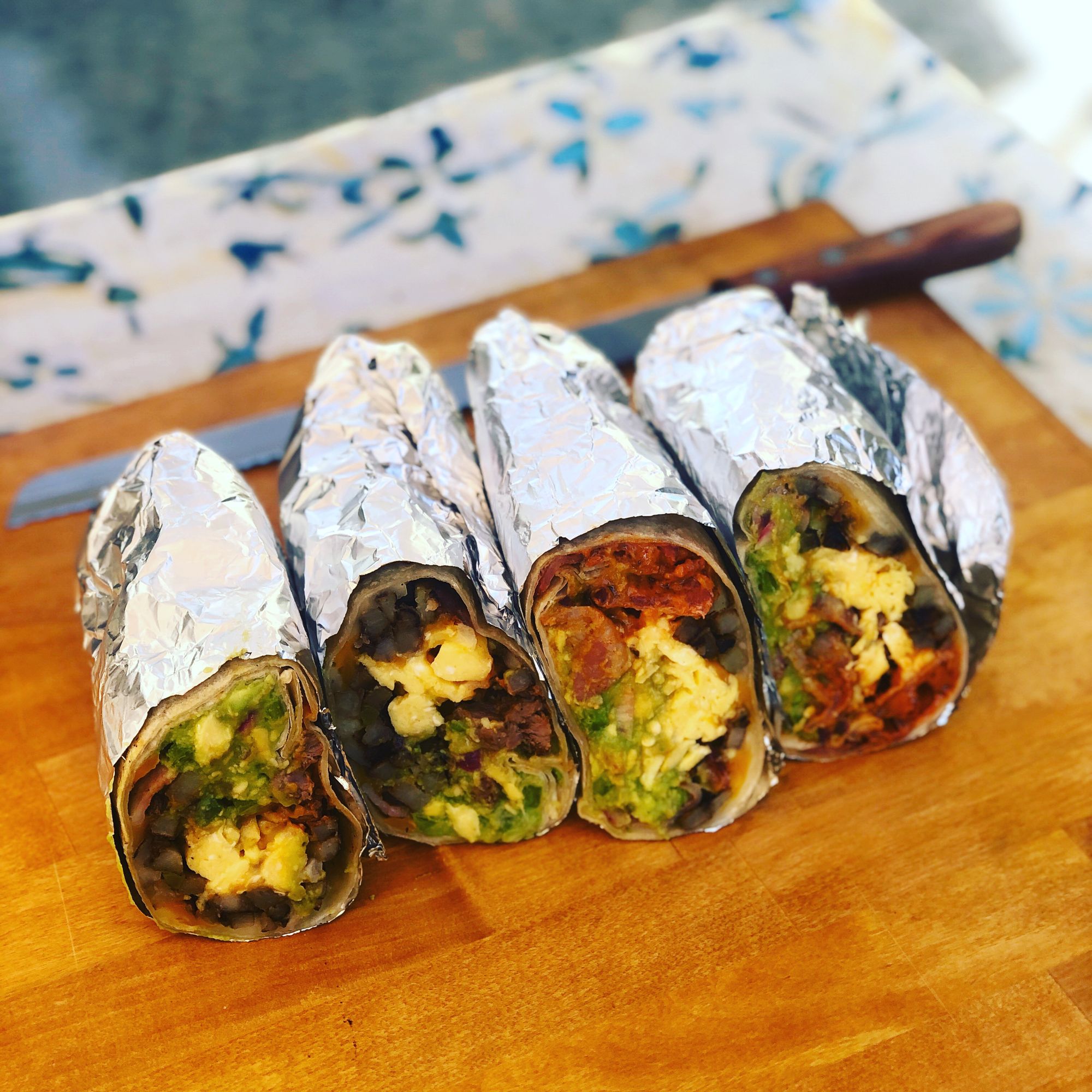 Business-wise, 2020 was the year of "sure, why not try it?" In the food service world, that led to many, many experiments, all of them glorious, even if they didn't make money. (RIP, it seems, to Trencher, who had a wonderful mahi mahi sandwich but apparently stopped operating this year, a while after it went from brick and mortar to pop-up.)
Two of my favorites are still in operation, and while their food is wonderful, there has to be some level of good luck and happenstance involved. And so much determination.
But the food is why you're reading. Marden's Chicken Rice and Stand Up Comida have emerged as two of the more interesting restaurants in Los Angeles right now, however you define "restaurant." Both started during the pandemic by selling out of their houses; Marden's still uses that model, while Stand Up serves at a rotating series of bars.
I did ask the proprietors of the two pop-ups some questions over email, which is unorthodox for a review, but when there's no physical location to visit, you have to get information elsewhere.
Ritch Ruiz of Stand Up Comida is, of course, a stand-up comedian. He told me that he's been making burritos for himself when he's on the road and for visiting comics when they're in L.A. He made it official during the pandemic, offering his three favorite burritos, and their vegan and vegetarian counterpoints, for sale, creating an Instagram profile and taking payment through Venmo.
The menu has evolved since 2021, most notably with the addition of tacos. The whole collection is full of rich ingredients, but you don't necessarily need to lie down after a Stand Up meal. Maybe if you had two burritos? But every body's different.
I think many people misunderstand the artistry that goes into making a great burrito. Just because the ingredients are smooshed together doesn't mean they weren't cooked thoughtfully as individual elements. Stand Up deals a lot in steak, always well seasoned; the mushrooms might be even better. I can't speak to whether the guacamole is store-bought, but it certainly doesn't taste prefab. Most of the menu items include a chipotle maple crema, which I was not initially jazzed about. But it works perfectly, my bad. Raw ingredient sourcing is important too: whatever vegan cheese Ruiz is using works very well.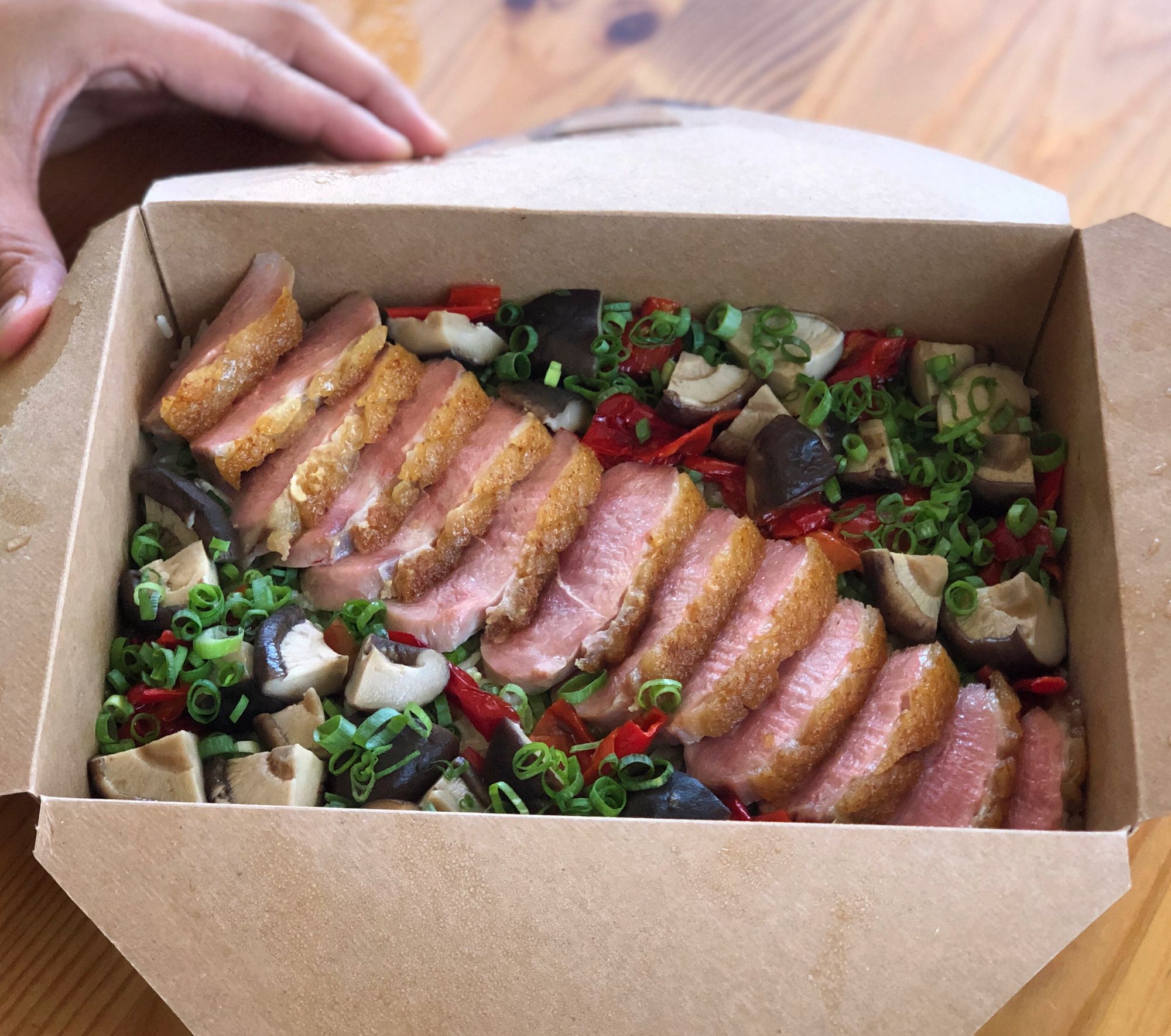 Where Ruiz fell into foodmaking, Simon Tan of Marden's Chicken Rice has worked in the restaurant industry for some time, mostly at upscale places like MB Post and Gramercy Tavern. He had been working on opening a restaurant, but changed tack and in September 2021 started selling meals out of his apartment. He started with Hainanese chicken rice, and has since added some dishes, sometimes adding to or subtracting from the menu. Marden's sales dates are irregular, but you get the impression he's constantly tweaking and doesn't want to take peoples' money until everything's perfect.
Of course, the food is already perfect. Not a spice out of place when you open the boxes and bowls of Singaporean food you've brought home. Hainanese chicken rice is famously a dish that looks like absolutely nothing, but when made properly, can change your entire understanding of food. It's served with sauces, herbs, broth, and rice, and there's nothing negative to say about any of it. I imagine that Tan's business model, of accepting orders until he's "at capacity," allows him the time and space to make every element of his food the ideal version … but all the time in the world won't give someone innate ability. Sometimes Tan switches it up and offers prawns with chili sauce and fried buns, or duck with mushrooms and peppers. The latter is heavenly.
Both Marden's Chicken Rice and Stand Up Comida are earning revenue. Tan attributes some of his profitability to the above-mentioned sales cutoffs, and Ruiz says his burritos' fame grew through word of mouth, allowing him to switch to off-site serving. Both would like to open permanent locations, but are attuned to how difficult the food business is. "The restaurant industry is particularly vulnerable right now, so I do not want to expand too rapidly, but at a safe and sustainable pace," says Tan.
We the public benefit from supporting pop-ups as-is, though. We get to eat fantastic food. We get to say we were on it from the start. A satisfying combination.