Review: not everything needs a definition
Is it fusion ... or is it just good.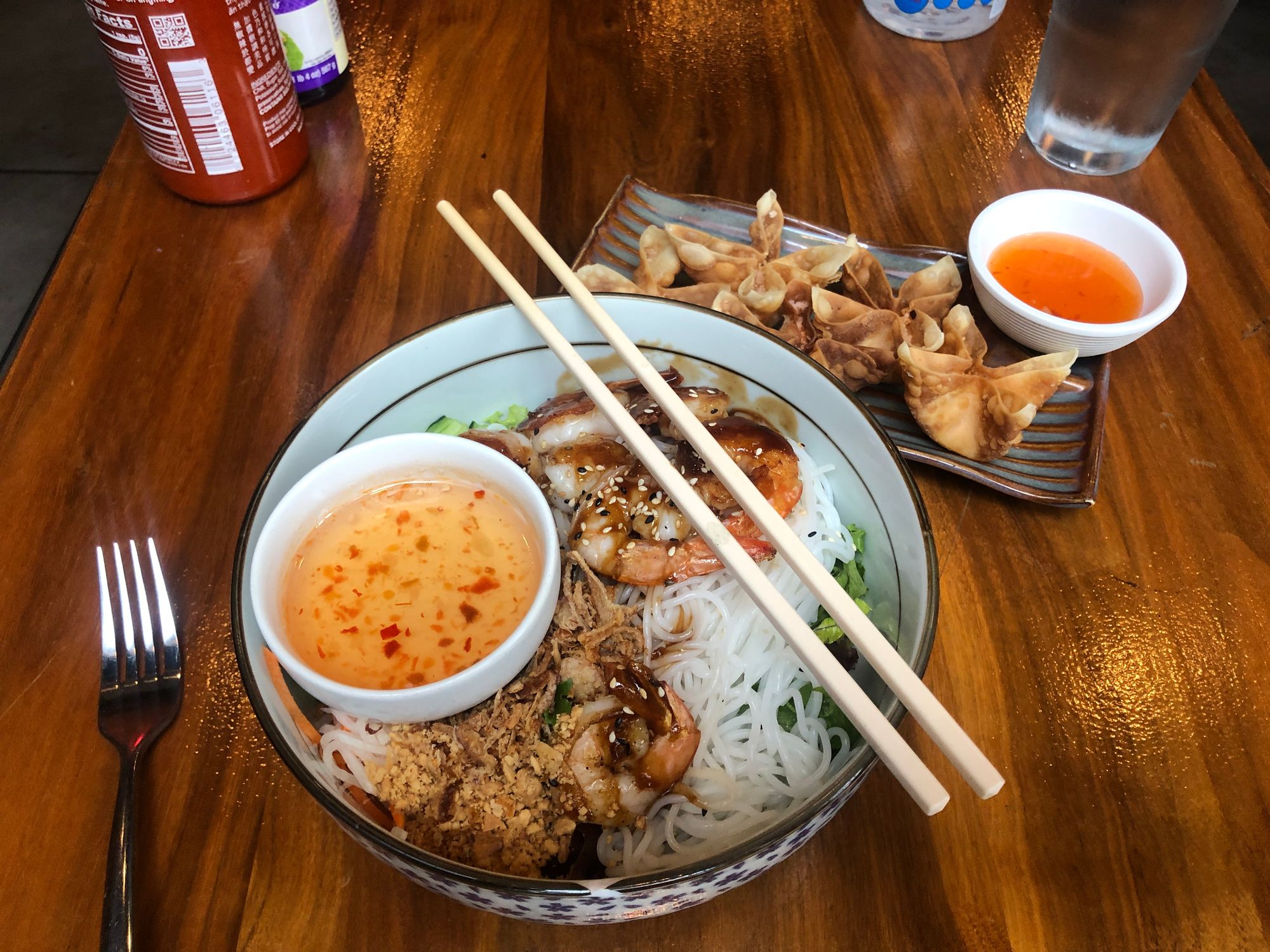 Thank you for reading How to Eat L.A. After this one, restaurant reviews will be behind a paywall, so please subscribe!
Restaurants that advertise the cuisine of disparate countries have always confused me. Especially "Chinese food, Sushi." What does it mean? Is any of it good? Honestly I usually don't try to find out. But Sisters Cafe lists itself as "Vietnamese & Asian Fusion," and the food's delicious. (It's also overwhelmingly Vietnamese, with, as far as I can tell, only a few nods to Thai and Chinese dishes.) Perhaps now, with the globe getting smaller, it's time to rethink my provincial stance.
Vietnamese food is my favorite. So I suppose you have to take it with a grain of salt when I say "IT'S SO GOOD. YOU SIMPLY MUST TRY IT." On the other hand, I am right.
I saw the bread this restaurant uses for banh mi, and it's nothing you'd be impressed by, but it doesn't matter, since the fillings are quite good. They come with French fries, which is unnecessary (why does the menu calls this dish a "snack," it's a dang meal deal), but then you get to dip the fries in sweet chili sauce, and your entire condiment ranking might fall like dominoes.
If the crab noodles are on the menu, get them. If not, the "Sisters noodle," wheat noodles with tofu, mushrooms, and green onion are also fantastic - they're both simple dishes, extremely well made.
I sometimes prefer ordering delivery from Sisters Cafe to eating in. Not because there's anything wrong with the restaurant - it's a nice, airy space - but, you know, parking in Hollywood is such a bear and also I want to eat the fried roti with curry sauce and the cream cheese wontons without anyone looking at me. They're ungainly dishes that you just wanna shove all in your face as quickly as possible. And, that's right - cream cheese wontons. Not crab Rangoon, at least not on the delivery menu. Just deep-fried cream cheese. It's excellent.
The pho here is huge - yes, even for pho - so it's great when you're famished, but the rest of the menu is more interesting.
The servers at Sisters are bracingly honest with their menu recommendations, so you can always ask them what's especially good when you go in (but also know that doing this is a touch annoying and you should remember that when you tip). It's always hard for me to move away from bun (cold noodle salad), but here I am rewarded handsomely whenever I do.
The rice bowls come with salad greens and an egg roll - not the East Coast variety, but the classic Vietnamese cha gio, I want to clarify for our New York expats. The spicy pork is the best option. There's also a "braised marinated pork belly with egg" rice bowl that's a dollar cheaper than the "Vietnamese pork belly with egg" listed in a different section of the menu. I think they're the same, and while I've had better marinated eggs, the sauce makes you wish you could bring in an empty kiddie pool and tell the cook to fill 'er up.
I haven't tried one of the desserts here, because Vietnamese citrus soda (housemade) is the best sweet drink in the world and it's pretty perfect after that pork belly. At Sisters it's made with lemons rather than the preferred limes here (so I'm not sure if it counts as soda chanh, like, spiritually) but it's still an ideal meal-topper. Take it to go and make this whole meal a multi-hour luxury experience.
I'm wondering, again, what "fusion" means here. Vietnam is a country with different ethnic groups. Maybe when you combine all the residents' cooking tradition with some U.S. pizzazz, that's disparate enough to make it fusion. (Pizzazz like crab Rangoon, naturally.) There's a lobster banh mi on the menu that, of course, make me think of lobster rolls, and then I think of American fishing communities, and I remember that there are a lot of Vietnamese-American fisherpeople in Louisiana. Maybe fusion doesn't make sense because, in food, so much is already fused.
-5910 Sunset Blvd., Los Angeles, CA 90028. (323) 380-6599. thesisterssunset.com.
Thank you for reading How to Eat L.A. After this one, restaurant reviews will be behind a paywall, so please subscribe!