Review: a journey to West African food
Los Angeles County is big. Sometimes a journey is in order to find something great.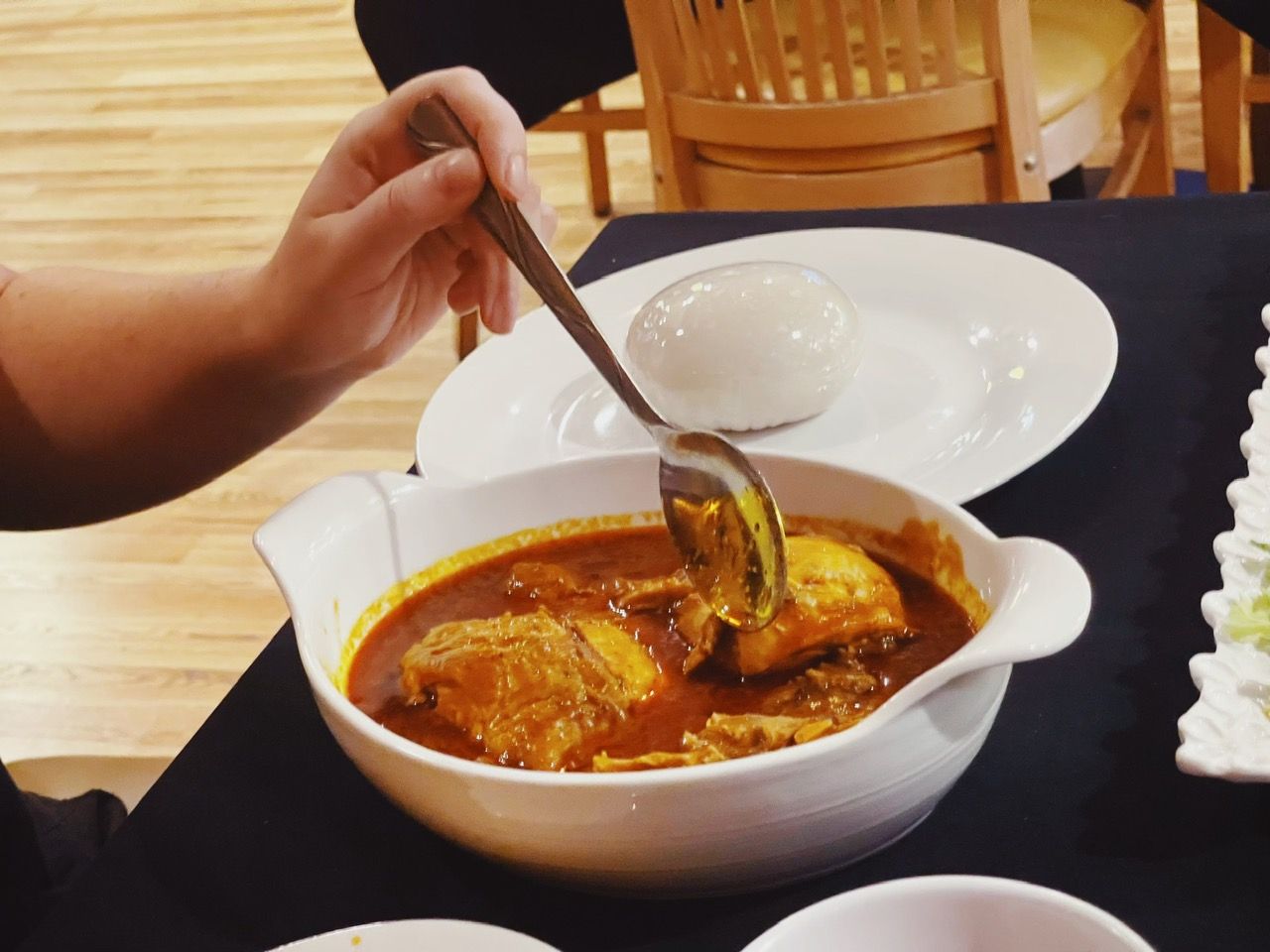 Ponia's Palace is a huge West African restaurant in the unlikely-seeming Antelope Valley, a very northern part of Los Angeles County that doesn't get much attention, unless there is an article about the housing crisis or the mortgage crisis or the opioid crisis. But those articles don't talk about restaurants.
The strip mall restaurant (always pretty empty at lunch, based on what I saw) is owned by Juliponia Amoako Hene, who also owns Ponia African Market Butik in Palmdale and Ponia African Market & Boutique in Lancaster. Ask a server who owns Ponia's palace and he'll reply "Ponia!" in a tone that suggests you're being a bit dense, which is fair.
It was roving food reporter Jim Thurman who introduced me to the Palace. The restaurant misrepresents itself a little from the outside, but I think I may know why. Apparently it is common knowledge among Black chefs in the U.S. that, when non-Black customers know that a restaurant is owned and/or cheffed by Black people, they will assume the location sells chicken and waffles. There is a huge photo of chicken and waffles in the front window, but Ponia's does not have that dish on the menu. But we understand why they display the picture: a little harmless feint to get people in the door, where they might expand their culinary horizons.
Otherwise, the red and gold exterior accurately lets you know this is a special place. The service is very welcoming; kind and patient with customers who don't know a thing about the food. (Hi!) The placemats double as soda menus, with a ton of fun bottled drinks from around the African diaspora. I'm partial to the Caribbean favorite, a grapefruit soda called Ting. Perfect with the complimentary plantain chips. There are multiple TVs, turned to different channels, with one playing really loud music. Sensory overload does me in but I face away from the biggest TV and I'm good to go — the better to focus on the food, anyway.
My understanding was that people will come to blows over which country's jollof rice is better, but Ponia must feel relaxed about it, given that her restaurant serves both Ghanaian and Nigerian versions. They are quite different, but both have plenty to recommend them. Here, the menu doesn't do much to elucidate the difference between the two, even though the ingredients are listed: tomatoes, onions, and Scotch bonnet peppers in both, while the Ghanaian also has stock, and the Nigerian contains bell peppers. I suspect there are more differences, as they really do taste different, beyond the different rice (Ghanaian made with broken Jasmine rice, while the Nigerian is just listed as "long grain"). I've come to prefer the more complex and layered Ghanaian version, but the Nigerian jollof plate is a great place to start if you're unfamiliar.
West African food is more than jollof, of course. On the sweet side, there's kelewele, a dessert of spicy-sweet plantains, served with peanuts. It's pretty simple, but it gets the job done nicely. Puff puff is in the appetizer section, but it's a big serving of delicious nutmeg-spiced donut holes, so I'd recommend ordering it last.
The dishes with meat offer the option of beef, chicken, goat and tilapia. I can't eat goat myself (I had them as pets), but it's a meat less harmful to the planet than a lot of other options, and my dining partners say it's quite good here.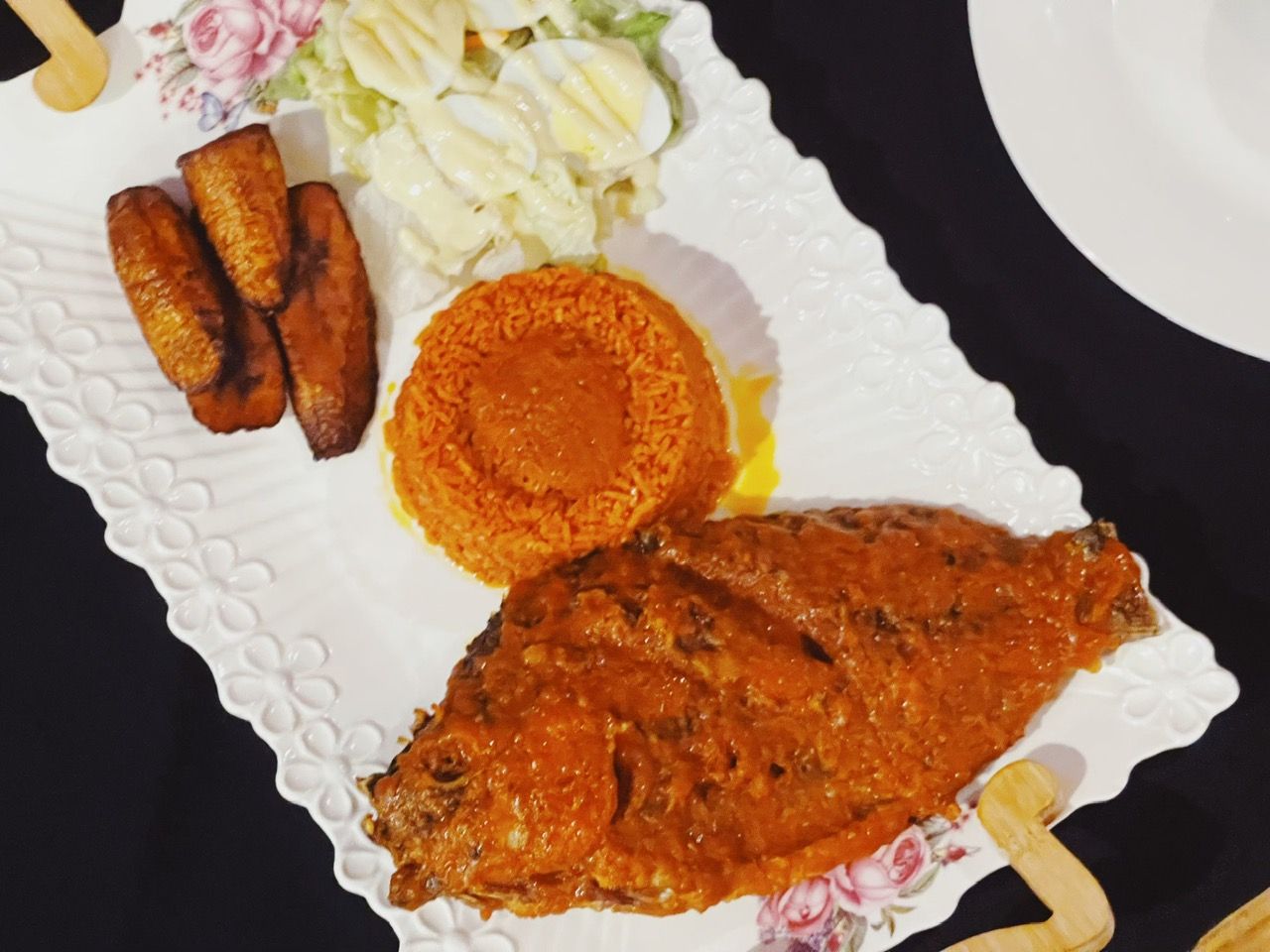 I was disappointed that tilapia was the seafood option, given its reputation on the west coast. But then I took a stroll through cultural history and learned that the fish is native to the Levant and northeast Africa and eaten all across Africa, where tilapia aquafarming has existed in Egypt (if not elsewhere) since the 3000s BCE. It seems (and tastes) to me that Ponia's is sourcing its tilapia from the Pacific, which I'm sure is the only feasible option on the West Coast. What can one do? Still, the skill of the cooks is evident especially with this fish: the skin is addictive and crispy, even when covered in sauce or stew.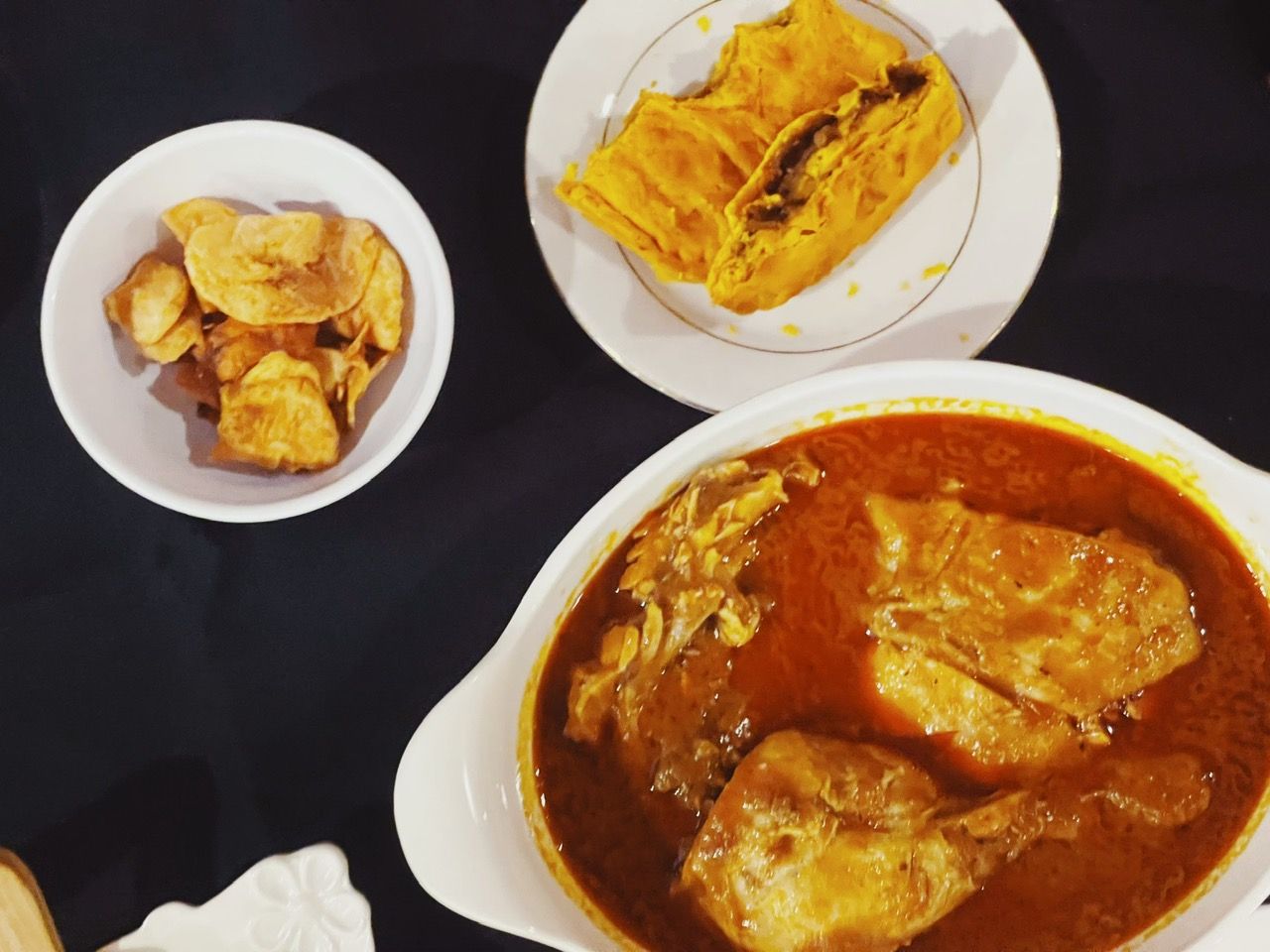 Speaking of stew! This is the best part of the menu, and the most theatrical, as hand-washing bowls arrive immediately after you order one. Peanut butter soup must be sampled to get closer to understanding the soul of West African cooking (and if you're only used to peanut butter in one context, this will not be what you're expecting). Pepper soup contains both Scotch bonnets and Cameroon pepper, and it'll sneak up on you. I went heavy on the fufu with that one. (Fufu is pounded cassava and you use bits of it as a utensil.) Egusi soup is another must-try, as the ingredients are relatively rare in California: pumpkin leaves, bitterleaf, and waterleaf (similar to spinach or purslane) are mixed with locust seeds and egusi melon seeds. A nutrition explosion!
Banga soup is my favorite dish on the menu. It's palm nut cream (from Africa, not Asia) with dried fish and tons of spices and you'll only stop eating it when you're forced to because your mouth is as fiery as the sun.
Getting to Palmdale takes some doing for a lot of people in L.A. County. Ponia's Palace is worth it.
2250 E. Palmdale Blvd., Palmdale, CA 93550. (661) 526-3338.
More about West African food here.
And to learn about how it influences the whole world, click here.
Editor's note: I consider myself a journalist, not an influencer, so I do not accept free food and I do not tell restaurants who I am.
See the map of all How to Eat L.A. picks here.